Ecoinometrics - September 21, 2020
Where do you park your money?
It feels like everyday more people are waking up to the idea that you just can't leave cash on your bank account and expect it will buy you the same kind of stuff 10 years from now.
So if cash is trash then what do you do with it?
---
The Ecoinometrics newsletter decrypts Bitcoin's place in the global financial system. If you want to get an edge in understanding the future of finance you only have to do two things:
Click on the subscribe button right below.

Follow Ecoinometrics on Twitter at https://twitter.com/ecoinometrics. 
Done? That's great! Thank you and enjoy.
---
Cash is trash…
Pretty much everybody agrees about that by now: cash is trash. 
The various accommodative monetary policies run by central banks around the world will without doubt continue to push asset prices higher in the foreseeable futures. 
If you are holding cash and do nothing with it you'll simply be left behind. 
So what are the alternatives. Well apart from Bitcoin you might be considering bonds, stocks, real estate, gold and so on...
But are these really better options than Bitcoin? I'll cover these different options and how they compare in more details upcoming issues of the newsletter. 
For today let's have a look at government bonds. 
Unless you venture into holding governments bonds from say Venezuela or Argentina this asset class is supposed to be pretty low risk.
You buy some bond, collect the yield and wait until maturity to get your money back.
Sounds like easy work?
It is. Except when the yield is negative. In that case you bought the certainty to get less money at the end than you had at the beginning.
And you know what? More and more governments are offering bonds with negative yields. 
Take a look at the heat map below:
On the horizontal axis you have the bonds maturities.

Each row is a different country.

The darker the cell the higher the yield. 

The very light colours cells are negative yield.
I'll give you a minute to go through the chart.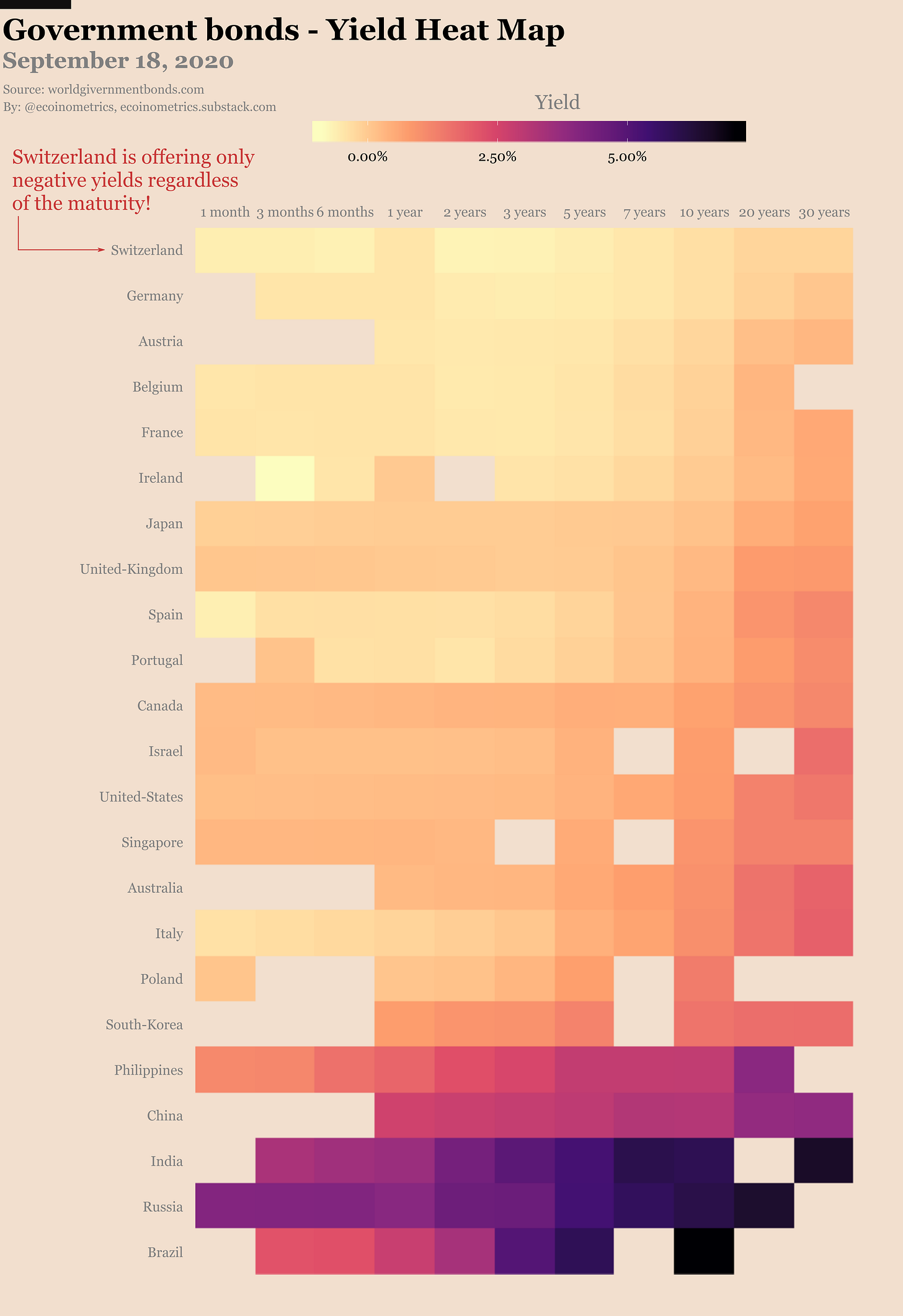 So what do you see there? 
A lot of light colours isn't it?
Switzerland only offers bonds with negative yield. Even if you buy a 30 years bond you can't get anything positive.
All over Europe the colours are pretty light too.
If you want to find yield you need to invest in India, Russia or Brazil. And in that case you only get at best 8% for long durations…
If instead of looking at it country by country you consider the distribution of yields for each maturity you quickly realize that at all maturities you can find a shockingly large amount of government bonds with negative yields.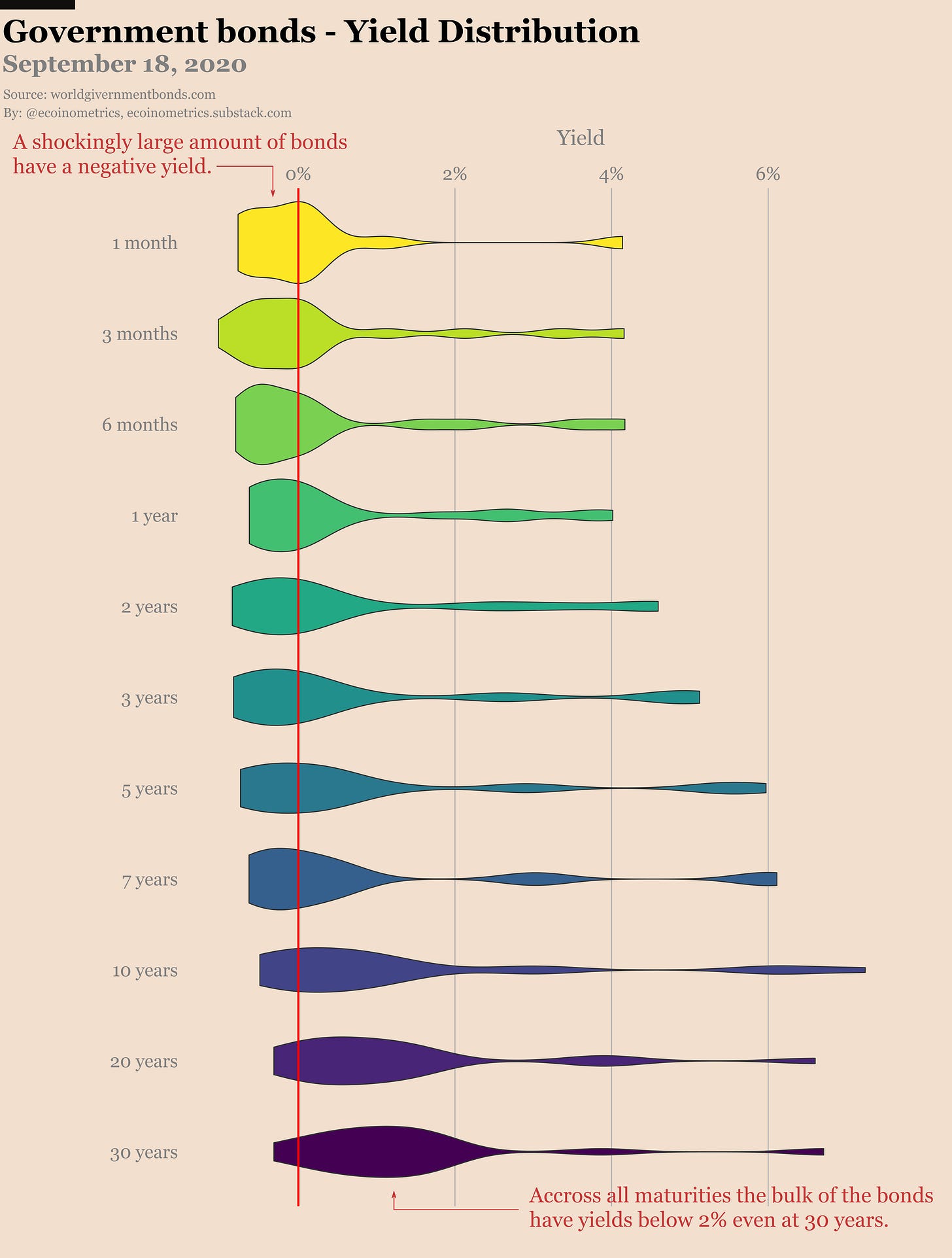 Even pushing to longer durations the bulk of the yield is concentrated below 2%.
So is it really where you want to park your cash into? 
With government bonds the game is:
Either have the certainty you'll get less money back later.

Or pray that a more risky government won't default on its debt and get a few percent back.
Meanwhile if you buy Bitcoin instead you:
Don't have to worry about changes in monetary policy.

You are your own bank. That means no counterparty risk in case of a government default on its debt.

You are making an asymmetric bet with potential returns conservatively between 10x and 100x on a longer term horizon.
The choice seems pretty obvious to me. What about you?
---
Another one bites the dust
The Bank of England is seriously considering joining the EU and Japan with a negative rates policy.
Aren't things changing fast in 2020?
At the beginning of the coronavirus crisis the BoE stance on negative rates was like "over my dead body".
Then we learned that actually behind closed doors the BoE was studying the impact of negative rates in the EU and concluded that it isn't so bad after all.
Now we are at the stage where they are trying to figure out how we'll implement that in practice.
That's why it doesn't really matter if the US Federal Reserve says that they are not considering negative rates. In a few months things can flip from being unacceptable to no big deal.
With a transparent algorithmic monetary policy Bitcoin fixes this.
---
The Fed is strong
Fed chairman Jerome Powell gave his forward guidance speech last week. Here is what he had to say about it afterwards (emphasis mine):
"I would say this very strong, very powerful guidance shows both our confidence and our determination..."

Jay Powell
You sure need to have some confidence and determination to say that kind of crap with a straight face.
This forward guidance was so strong that Jay Powell had to remind us of how strong it is several times. But at this point it is more like he is trying to convince himself.
So what's in this very powerful forward guidance:
CPI inflation rate above 2%.

Full employment.
Wait a minute, that's the same thing as before… things that the Fed has been unable to achieve for years.
But for sure they must have come up with a new way of achieving these goals right? Let's see:
Expand the balance sheet even more.

Put more liquidity in the system.

Yield curve control / monetization of the US debt.
Right… so again it's the same as before but with even more money this time.
"Insanity is doing the same thing over and over and expecting different results." 

Not Jay Powell.
One thing is sure, with the same method the Fed is going to continue missing their targets while at the same time pushing asset price inflation higher.
Those who keep the majority of their wealth in cash will be the most negatively impacted.
Save your purchasing power, buy Bitcoin.
---
Reasoning process
By now everyone has heard that MicroStrategy has converted its cash holdings into Bitcoin buying a total of 38,250 BTC for approximately $425 million.
But the most interesting part of all that is to listen to Michael Saylor, the CEO of MicroStrategy, explaining the reasoning behind this move.
You should absolutely watch his interview on the Pomp podcast. The tl;dr is:
Cash on your balance sheet is not a good thing because its purchasing power is melting away.

Most instruments you can park your cash in are either giving you a low yield (if any) or look like they have very limited upside.

Bitcoin is not only a store of value but also an asymmetric bet. The upside is massive while at this point the risk seems low.
Why is this reasoning important? Because it makes sense. More specifically it makes sense as a strategy for any business that has to deal with putting its cash reserves to work.
This is bullish for Bitcoin.
Few understand this… but things are changing!
---
If you have learned something don't forget to subscribe to the newsletter to get my insights directly in your inbox.
Cheers,
Nick
---
The Ecoinometrics newsletter decrypts Bitcoin's place in the global financial system. If you want to get an edge in understanding the future of finance you only have to do two things:
Click on the subscribe button right below.

Follow Ecoinometrics on Twitter at https://twitter.com/ecoinometrics. 
Done? That's great! Thank you and enjoy.